"No" means "maybe"
I could no longer afford to live in my own home, handed it over and moved to a small room for servants, next to the kitchen, in the apartment of my friends. I had to take care of my daughter, and the work was needed as air. I have never managed to organize my own business before, and now I had no idea what to do. One time I was thinking of becoming a waitress and once, having collected all my will into a fist, I went to the nearest restaurant and asked to work. But, to my horror, they refused me. I tried my luck in neighboring institutions, and again unsuccessfully. A woman who yearns, apparently, radiates unhappiness. In addition to the closest friends, no one even had time to listen to me. It seemed that I was standing on the side of the road, and life was racing by. I knew very well that no one would rush to save me, I would have to save myself.
And now, quite by accident, from a friend of my friend, I found out about a vacancy in one of the small advertising bureaus. Obligations were to brew coffee, wash cups and answer phone calls. Only everything, but I was crazy for joy: it was Work!
take the tests
Can you turn the page and start a new life?
At the same time, I began to audition for different roles in the movies (and did not receive them). I always hid some scenarios on my knees under the desk in the office and studied them between the calls. During dinner I rushed to the auditions, so that no one, God forbid, did not notice my absence.
I sent out faxes and made copies, washed dishes and cooked coffee, learned to organize myself and others (later it was very useful to me). I knew very well that my salary was not enough to put my daughter on my feet and get out of the maid's room. It was necessary to change something. Once, when I was sewing papers in the office, I suddenly saw how much the most last-named actor who earns money in a commercial video in my agency earns. More than me! It was time to go forward, go up to the next step.
But fate gave me another unexpected "gift". The people who lived in my house turned it into ruins. The real estate agent, whom I hurriedly called, confessed that for all the years of work I had not seen a house that would have been left by tenants in a worse condition: furniture chewed by the dog, torn curtains, broken valuables.Among the junk, I suddenly discovered my favorite wooden duck, which I had bought a long time ago on a flea market. The dog nearly stripped her head.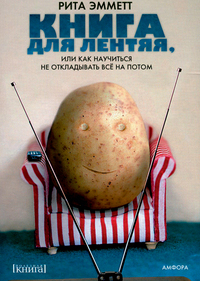 Rita Emmett "The book for the lazy, or How to learn not to postpone everything for later" In fact, this book is not intended for all lazy people, but only for those of them who like to put everything off for a long time.
I never could boast of a practical note or the ability to do anything with my hands, and in any case I never had to repair duck heads. But there was no way out: either give up, or fight to the end. I started acting immediately. I found the address of a respectable furniture maker who gave me faith in humanity. "Do not worry like that. I think I can help, "he said with a smile. Thus, some of the problems were solved. A minor, seemingly event, was a turning point in my life. If I managed to return the life of my cherished duck, then maybe I can fix everything else? I stubbornly rebuilt my house, learned from my own mistakes, and rejoiced at every little victory.
I was full of strength and I was convinced that my optimism could give a lot to people, but I also understood that it seems to no one but me.Having decided once to get acquainted with the statistics devoted to women of my generation, I made a stunning discovery. It turned out that women from 45 to 55 years are the fastest growing group of the population. Yes this is about me! About us! But who is listening to us? Who is talking to us at all? I was categorically disagreeing with the fact that only the first half of my life was worth something.
read also "It's never too late! I started all over again at 49 "
Looking through my notebook, I began to cover the thresholds of the largest cosmetic firms and salons, trying to convince their owners that they were in fact wrong and miss many things, focusing only on the fresh faces of adolescent girls or those who only twenty past. But there are a lot of women on the planet like me and my friends! Again the door slammed in my face. But I did not give up.
For me, "no" then meant "maybe", and nothing more. I was really convinced of my rightness, and this helps to overcome any adversity. I asked: "What can you do for women after 40, who look great, but want to look even better? Why are there no portraits in the media? Why does no one talk to us? "And the more often I talked with my contemporaries, the better I understood,how unhappy they are because nobody removes them, shows them on television, how they lack advertising in newspapers and magazines. We seem to have ceased to exist. And who will like it if they do not notice you and do not appreciate you? Personally it never suited me.
read also
About age
Despite the absence of any interest and general misunderstanding, I continued to insist on my own. Little by little the doors began to slowly open, the "cosmetics titans" began to listen to my words. It was a new and very fruitful idea: to show that between the beauty of youth and the beauty that is given to us by experience and years of tireless work on our own soul and appearance, there is no abyss. Beauty does not disappear with age and is characteristic not only of youth.
Soon, my friend and agent, Brian Bantry, set up a new agency with two "decrepit mannequins," one of which was your humble servant. Now only in the state of us 35 people! Ten years ago, we would have had to forget about our career. Now everything has changed.
Time passed. And suddenly I was suddenly lucky. The company Clairol first, crushing the age barriers, arranged a fashion show dedicated to hair dyes, and called for this purpose all the famous models from 1970-1980. I was invited as a lead.Then in Estee Lauder they remembered me and offered to present their cosmetic products, developed against the aging and withering of the skin. On the day that this contract ended, work was brought to L'Oreal. Finally, I again had the opportunity to do what I really love: to travel around the world, meeting all kinds of women with unreasonable cares and beautiful dreams. I was chosen to represent the skin care cosmetics series Plenitude, and this meant that the world is entering a long-awaited era when the woman's age ceases to matter. "
For more details see D. Haddon "Beauty" (Machaon, 2001).
Read also

"The ladies of old age are in fashion"
Recently, New You magazine published a cover of Carmen dell'Orefiche on the cover. This event would hardly have been a sensation, if not for the age of the model. Carmen dell'Orefiche is now 84 years old, and for the first time she appeared on the cover of Vogue in 1946.

What is the cause of the crisis of middle age?
Traditionally, a middle-aged crisis was associated with a person's mature thinking about what he had achieved in life. However, researchers are now beginning to suspect that, apparently, it is of a biological nature, programmed by the life cycle of a person.
Text: Prepared by Ksenia Tatarnikova