At the entrance to any major museum - be it the Hermitage or the Louvre Museum - we usually grab a map and spend the next two or three hours flying an arrow from one masterpiece to another, scampering through the crowd of connoisseurs to Mona Lisa and fighting valiantly with hunger and fatigue . What if you slow down? Spend a little more time with a picture or sculpture that attracted something, caught our eye, let it not be the famous masterpiece that is accepted to be admired?
Going to the museum, we look forward to pleasure - no one has the desire to storm it like a fortress. However, according to observations of researchers *, visitors spend about one work of art on average 15-30 seconds. The crazy rhythm of life has taught us to believe that this is normal.
"Imagine that you walk along the bookshelves in the library, looking at the roots of books and simultaneously sending to your page in social networks something like" Today I read 100 books! "- leads a visual comparison professor of psychology James O. Paulski (James O Pawelski) from the Center for Positive Psychology at the University of Pennsylvania (USA).- In fact, that's exactly how many people behave in the museum. Before them there is as much art as there are books in the library. But it's impossible to really see the picture, if you just glance at it, passing by. "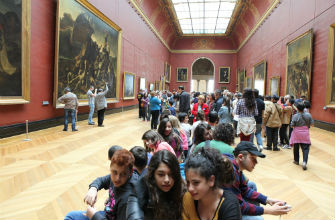 Louvre, Paris
Of course, there is no single right way to "feel" the museum. One likes to quickly see everything at a time, others want to see and photograph only the world's masterpieces. Professor Pavelski and his colleagues who study the relationship between positive psychology and the humanities offer another way - to slow down.
read alsoArt-therapy and therapy with the arts
Choose one wing in the museum or art gallery and start walking, mentally noting which pictures attract to yourself, and which, on the contrary, repel or do not cause interest. Then go back to the picture that persistently calls to yourself. For example, if you have an hour left, you can wander around the museum for 30 minutes, and then spend the remaining 20-30 minutes near the picture or sculpture, which was remembered more than others. "Twenty minutes these days is like three hours," observes Pavelski."It's an amazing thing - you start to really see what you're looking at."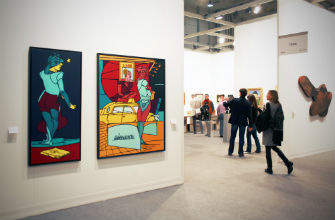 Exhibition of Contemporary Art in Milan
Julie Haizlip, professor of pediatrics at the School of Nursing at the University of Virginia (USA), admits that the "slow" trip to the museum turned her whole life. At first she was skeptical - for twenty minutes on one picture ?! - and not a single work of art in the museum of the Barnes Foundation, where she went with Pavelski, did not attract her attention. Then she noticed a beautiful, melancholy-looking woman with red hair, quite like hers. It was a portrait of a prostitute "Montrouge." Red Rose "brush Toulouse-Lautrec.
"I wanted to understand why she had such a stern look at the picture." Minutes flowed, and Professor Hazelip caught herself thinking the woman's story. It seemed to her that she felt trapped and unhappy, but at the same time - determined to find a way out. Behind her shoulder Toulouse-Lautrec wrote a window - as an opportunity for salvation, just turn around.
"In fact, standing in front of the picture, I projected onto it very much of what was happening in my life, and what I kept in myself," says Hayzlip. "In the end, she helped me to know myself and find a way out."An intensive care pediatrician by training, Hayzlip was looking for an opportunity to change her job, but she did not know for sure what she wanted to do. Three months later, after meeting with a picture in the museum, she changed her job, accepting the offer to become a teacher at a school of nurses at the University of Virginia. "Behind my back, there really was a window that I did not know about, and which I would never have seen, do not start looking at things differently."
To explain what has happened from a scientific point of view, it is still difficult for researchers, but it is clear that unhurried contemplation in the museum can positively influence our state of health, helping to restore contact with ourselves, to feel refreshed, not exhausted. "The feeling of happiness, the fullness of life, the spiritual uplift that embrace us, when we concentrate on the work of art, is akin to the effect of meditation," Pavelski believes.
read also Donna Tartt "Goldfinch"
The main thing is not to be afraid to look for your way to spend time in the museum, to try new things. For example, you can take your headphones with you and wander around the hall to the accompaniment of your favorite music, so as not to irritate and distract the empty chatter of other visitors.Or preview the catalog of the museum on the Internet in advance and select the departments that match your hobby, interests, whether it be music or horses. "Many for some reason are sure that everyone in the museum is obliged to behave in a certain way," says curator of the educational programs of the Metropolitan Museum in New York, Sandra Jackson-Dumont (Sandra Jackson-Dumont). "Nothing of the sort, you can just be yourself."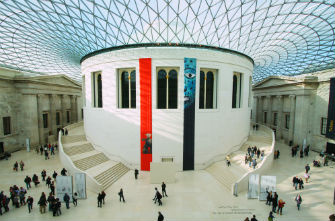 British Museum, London
For example, in recent years, museums have begun to conduct the "Selfi Day" - any visitor can be photographed next to a painting or sculpture and publish a picture in social networks. Most people try to take the pose of the sculpture or the hero of the picture, about which they stand. "Perhaps, to some it will seem a vulgarity and a sign of disrespect," says Jackson-Dumont. - In fact, it's a great way to re-evaluate a work of art in a new way, to pass it through yourself. When blind or partially sightless visitors come to the Metropolitan Museum with us, we suggest that they do the same - so a blind person can better understand the work of art in question. "
Let the next time you go to the museum, you are guided by intuition, instincts and interest. Who knows what discoveries you make for yourself.
* For more details, see http://www.nytimes.com/2014/10/12/travel/the-art-of-slowing-down-in-a-museum.html?_r=2
read also "I will take you to the museum" Text: Ksenia Tatarnikova