This is a state of poise, deep spiritual and physical rest. It needs to be distinguished from the ostentatious calm that comes from the fact that we restrain feelings that rage in us, we do not allow ourselves to realize them and even more so to show them. Such deterrence is fraught with an emotional explosion. While calmness enables you to clearly understand your feelings and direct their energy to yourself for good.
Sustainability
Ability to restore your balance. Not "closet-like", when we are difficult to move, but if we managed to tilt, then the fall is inevitable, and "vanko-vstanka" is a property similar to that of a toy-tumbler: when we feel our center of gravity and quickly return in the starting position.
Plastic
In contrast to brittleness, this ability under the influence of external loads does not break down and does not collapse, but gently change without detriment (or even with advantage) for oneself.
These three most important qualities help develop Taijiquan - the ancient Chinese martial art, as well as health gymnastics.
read also We can be stronger than circumstances Psychotherapeutic aspect
"In my work, I emphasize the impact of the Tai Chi system on the state of the psyche, the emotional sphere, the resolution of psychological and psychosomatic problems," answers Vladimir Baskakov. In his opinion, in any occupation and a thing one can distinguish aspects (as astrologers say) or contexts (as psychologists say). So, in the Soviet years, many men practiced karate (without "to"!) - mostly as "protection" and did not turn to this "before" - moral, philosophical, philosophical and existential aspect. But taiqiquan is as complete as any art. This - and a complex worldview system, and a unique system of martial arts, and a powerful health system. "I just emphasize its psychotherapeutic aspect," Vladimir Baskakov emphasizes once again. The result of each lesson is a combination of a surge of strength and tranquility, which is not enough for this day, but also for the next lesson.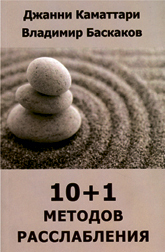 J. Kamatari, V. Baskakov10 + 1 relaxation methods "We must relax" is a popular motto in our time.What is not surprising: we constantly have to "do everything possible", "give all the best", in a word, to strain. After that, you want to relax. But it seems that we have forgotten! Taijiquan as a psychotherapy
The proposed complex of exercises is based on the unique joint gymnastics of Hua Tu (born in 141 CE), the complexes of Taijiquan teachers Toyo and Petra Kobayashi (Munich, Germany) and the author's body psycho technicians created by Vladimir Baskakov. I passed verification in the framework of the Commission for New Types of Physical Culture and Sports of the State Committee of the USSR. Classes are held in the form of lessons, with a regularity of 2-3 lessons per month.
Lessons:
in the morning on weekdays from 10.00 to 12.00. Near the metro station "Baumanskaya". The presenter is Vladimir Baskakov. More details on the link. Applications can be sent by e-mail: baskakov54@mail.ru
in the evening on weekdays from 19.30 to 21.15. Near the metro station "Baumanskaya", "Electrozavodskaya". Host - Marina Baskakova. Applications can be sent by e-mail: marinabask@yahoo.com
Read also

Which sport is right for you?
It is important to find this kind of motor activity, not to overpower yourself, but to anticipate the joy of exercise.

Learn to relax
Relaxation is an important condition in order to look good and feel great, part of a healthy lifestyle and a component of mental comfort.
Like0
Like0
Tweet 0
Class! 0
Mail0
P about this theme new on the site
"Because of my father, I do not have a man"
The tragedy in Kemerovo: "I feel nothing, I'm bad?"
How not to burn out at work: 3 useful rules
5 signs that your marriage is at stake
I constantly feel stupid
"Any tragedy in our country turns into a reduction of accounts"
6 exercises to translate dreams into reality
Self-worth: how to learn to be yourself
Log in to be able to leave comments.